CNC 3 Axes Control V Planer
YCV Series
| ITEM | YCV-2512~YCV-6012 |
| --- | --- |
| Capacity | 1.5~2.0 mm |
| Speed | 300~1200(mm / Min) |
| Motor | 2.25kw |
Optional
Human machine interface system


5 PLANER-TOOL PLANER
4~5 TIMES HIGHER MANUFACTURING EFFICIENCY

Back sheet support AC servo motor driven structure

Back sheet support clamp

Front hydraulic clamp (pressing plate)

Main screw auxiliary cylinder set

Main screw auxiliary structure

Air and cutting oil spraying system
FOR PROCESSING ACUTE ANGLE OF V SLOT OF STAINLESS STEEL AND OTHER KIND OF METAL MATERIAL.

X-Y-Z micro-adjusting hand wheel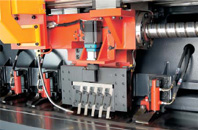 Planer tool seat
FEATUERS
Processing length depends on working piece length. Planer tool's stroke is adjustable. Planer working speed is stable and fast.
CNC 3 axes control, with semi-auto/auto processing function.
Be able to clamp and hold the working piece in semi-auto/auto function. All operation can be done in once.
The distance between planer tool and pressing plate is very small (3mm). The planned V slots are even.
Easy to operate. Amateurs or female workers also can operate the machine easily.
Low noise. Be able to operate the machine in industrial buildings.
After planning the V slots on sheets, it can use small tonnage hydraulic press brake to bend the sheet.