Hydraulic Press Brake
CNC Hydraulic Press Brake YCN Series
DA-66T
| ITEM | YCN-5016~YCN-100060 |
| --- | --- |
| Capacity | 3.5-25 mm |
| Length | 1600-6000 mm |
| Pressure | 50-1000 Tons |
| Stroke | 250-350 mm |
| Muitple Languages Screen | ­ |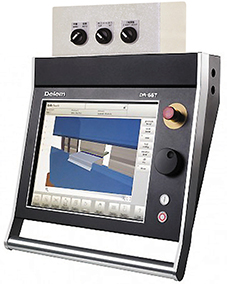 CNC/DA-66T System Introduction
DA-66T is a sheet metal press brake with 2D programming, automatic bend sequence calculation, and collision detection. Full 3D machine set-up with multiple tool stations giving true feedback on the product feasibility and handling. With the touch screen, you can access the proven Delem user interface and switch between programming and production easily. Functions are directly located where you need them, offering optimized ergonomics throughout the application.
Standard:
2D graphical touch screen.
3D visualization in simulation and production.
17" color LCD display. (TFT)
Standard Windows functions. User specific applications support.
USB keyboard, mouse and flash memory drive.
Emergency stop device.
German HOERBIGER hydraulic circuit.
Equipped with European optical scales.
Precision ball screw lead, linear slide way and AC servo motor for X axis.
Bearing-type guideway system.
Main Function:
Alphanumeric product naming.
Automatic bending sequences calculation and setting.
Multi-aspect programming, graphics programming, data programming and one page programming table.
Millimetres/Inches, KN/Ton and languages selection.
Programmable material properties and axes speed.
Bend sequences and real-scale tooling visualization while bending.
Computed functions include tooling safety zones, press force, crowning adjustment, developed length, axes position, operation modes and etc.
Step repeat up to 99 (maximum).
Error messaging system.
Hand-wheel movement of all axes.