Hydraulic Shear
NC Hydraulic Swing Beam Shear
YCS-SM Type
| ITEM | NC-M1 FUNCTIONS |
| --- | --- |
| Back Gauge Brake Motor | |
| Speed | 1420 RPM |
| Reduction Ratio | 10 : 1 |
| Accuracy | + / - 0.1 mm |
| Stroke | 800 mm |
| Shear Length | 0.1-9.9M |
| Counter | 9999 |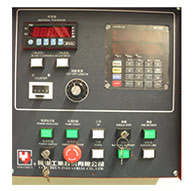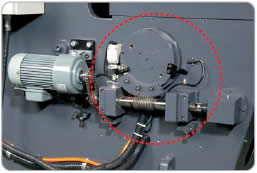 Blade clearance adjustment system (Worm gear)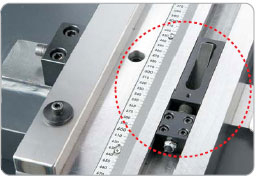 Front gauge setter
NC HYDRAULIC SWING BEAM SHEAR FEATURES:
wing beam shear makes precision cuts through the operation of its beam mechanism. The blade clearance can be adjusted by the use of an electric worm gear setter for plates with various thicknesses. Proper shearing can be obtained after the input of plate thickness.
Unique hydraulic control adjusts automatically the output of hold-down cylinders according to the magnitude of the load. Shearing thickness ranges from 0.1mm to 25m.
Logic hydraulic circuit, controlled by sequence valves functions at a low level of noise with no vibration. Stability, as well as the normal fluid temperature of hydraulic components, can be maintained under high-speed and long-lasting operations to assure consistent performance of the swing beam shear.
The swing beam shear body and blade base are made of SS400 steel plates which have been annealed for the elimination of internal stress. Control functions are integrated with the front side of the shear for ease of operations.
Overload protection ensures the safety of the swing beam shear and operators.
A point in the frame of the lower blade is used as the center of arc movement of the upper blade, which offers precision shear through hydraulic cylinder operation.
The special design of swinging beam support offers easy adjustment of blade's clearance. The clearance between blades can be attained by key-pressing and will be displayed in numerical form with decimal points. The precise clearance guarantees a smooth shear surface as well as shear safety.
The adoption of heavy-duty bearings at the beam joints can ensure precision and wear-resistant service life.
The back gauge is driven by a motor and precision ball screw to shear accurately and precisely.
Back gauge dual U overhang linear guide.
Easy back gauge calibration.
Pre-retreat of the back gauge to thick sheet cutting.
The controller maintains function in the environment of high-voltage electromagnetism.
※Automatic sheet support system provides extreme long plate shearing and protection from scratch. The support's quick response to plate support and descent makes the shearing even more accurate and smoother. (OPTIONAL)
STANDARD ACCESSORIES YCS-SM CONTROLLER SYSTEM
FRONT SCALE 1400mm
FRONT FRAME 1400mm
FRONT GAUGE SETTER
FRICTIONLESS BALL ROLLER WORKING TABLE 
1.5~2M... 3PC 2.5M.......4PC 
3M... .......5PC 4M.......6PC 
5M...........8PC 6M.....10PC
SHADOW LINE DEVICE
HAND PROTECTION DEVICE
RUBBER PUSH PAD
MAINTENANCE AND OPERATIONAL MANUAL
TOOLS FORMAINTENANCE (BOX)